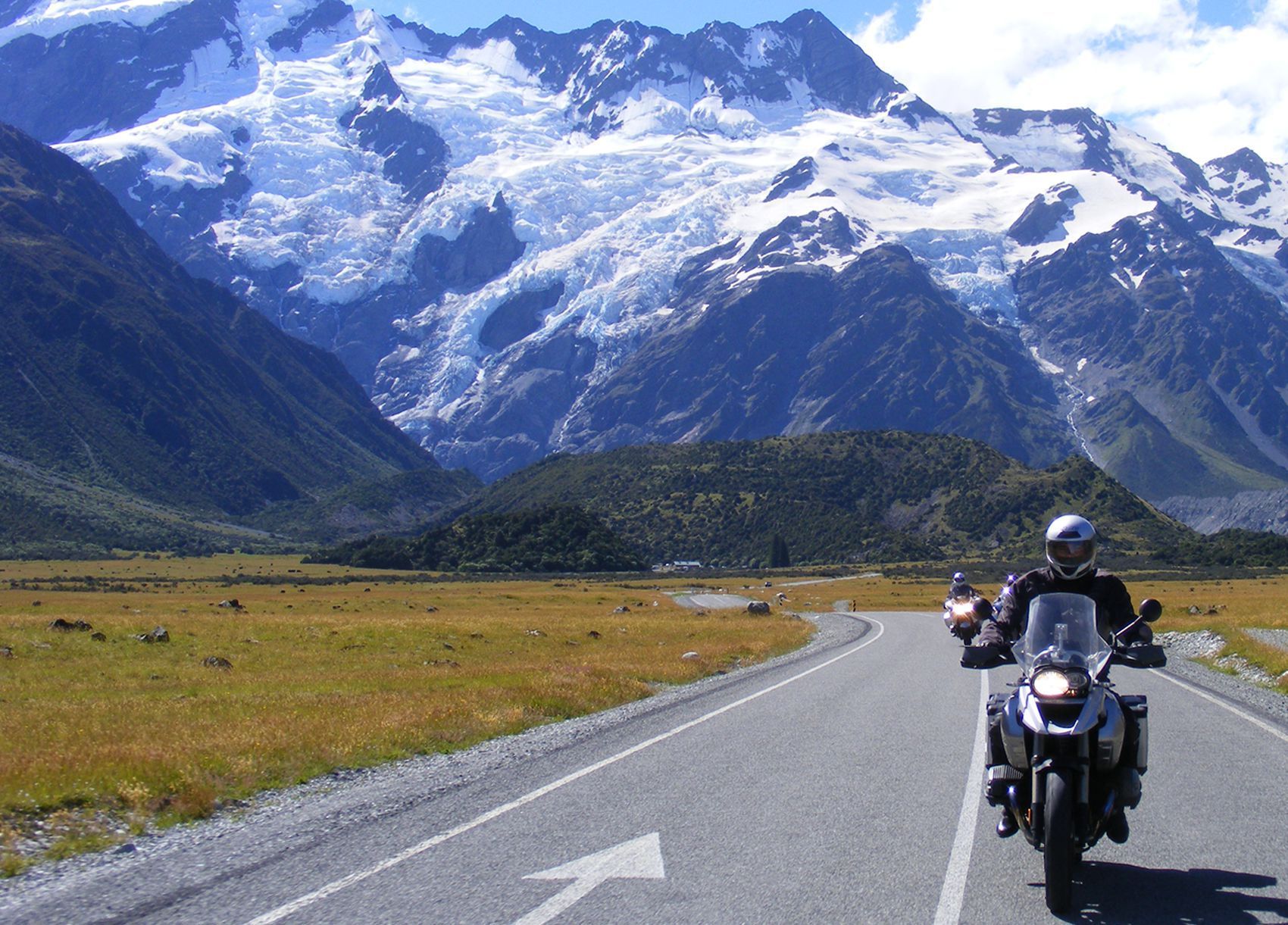 New Zealand's South Island
Surrender to the open road and the magnificent soaring mountains, rivers and lakes that conspire to make the South Island such an extraordinary scenic stage.
This is a great destination for classic motorcycle touring offering unrivaled natural beauty, diverse attractions and some of the finest riding in the world.
From mountain peak to mountain peak, you can follow the long alpine chain from north to south. Begin your Southern encounter in the gentle golden bays and labyrinthine waters between Tasman, Nelson and Marlborough. Wend your way through orchards and endless golden vines for tastings at award winning wineries, go dolphin watching or call in to browse at galleries and homes of the talented local artists and craftspeople.
Visit Christchurch, the island's urban hub, rebuilding from the earthquakes in inspiring and exciting ways. There is plenty to see and do and you'll find the people friendly and welcoming. Deep in the hills and harbours of nearby Banks Peninsula is the French settlement of Akaroa, a must do ride from the city.
The east coast is famous for whale watching and other wildlife encounters, and for the Scottish city of Dunedin with its fascinating gold rush history. West of the mountainous backbone lies a true wilderness experience where you can ride some of the most stunning coastal highway you'll ever see. Pass through rainforests to the great toungues of ice at Fox and Franz Josef glaciers.
Inland, ride beside tree lined rivers and across vast open tussocklands to Queenstown and Central Otago, home to famed Pinot Noirs and the adventure capital of the world. Don't miss the quiet undiscovered beauty of the Caitlins region on the way.
Some would say we save the best for last - the ride to Milford Sound is simply magical, the bends become tighter and tighter until you reach the Homer Tunnel where you'll blast through a mountain to the steep fiords on the other side. Take a cruise out on Milford Sound and you'll take away memories that will truly last a lifetime.
In January 2018 we rented two bikes for 17 days and drove from Auckland via the south island back to Auckland. Both bikes were in perfect shape and there were no problems. Trevor was always reachable and we felt well taken care of. So we enjoyed our trip from the first day. Thank you very much from Germany!

Roswitha & Bernd, Germany